A family reunites for, what proves to be, the last time. In just a matter of a couple of hours, multiple lives change. And none of them for the good. A family is torn apart, two lovers separated, a life of guilt and an urge of penance and atonement for one.
The author is both cruel and considerate. The former for his reader and the latter for one of his characters, or maybe three. Let me walk you through the story and let you know what I mean.
(Before I begin, I'd like to admit that I didn't quite like the first part. It was too slow and dragged on. However, I'm glad that I decided to read despite it because the last two parts were really something.)
(Spoilers ahead)
It's a journey within a journey. It's about Cecilia Tallis and her lover, Robbie, the family's gardener. It's about the Tallis family, the cousins who took refuge, with them, from their estranged parents and about a guest brought home by Cecilia's brother, Leon.
But mainly it's about the journey of a thirteen year old, Briony Tallis. Her journey from her innocent teens to a life of guilt she – perhaps unknowingly – created for herself.
The story is set in three parts.  Half of first celebrates the reunion – Cecilia Tallis returns from Cambridge University, the twins and Lola have come to stay, Leon has returned from America along with his friend, Paul Marshall. Briony loves writing and is preparing a script for a play, for which she intends to have the twins and Lola as actors.
The mid of this part introduces one scene that seems to have had a hidden yet drastic impact on the witness. A  not-what-it-seems-like moment, misinterpreted by a 13 year old: Cecilia is seen stripping off her clothes, near the fountain, in front of Robbie Turner. What it appears to Briony is a command like gesture by Robbie on which the stripping happened and also the mysterious dive in the fountain.
In reality, it was Cecilia's decision to do so to save a vase. A vase that had final memories of her uncle attached to it. One of the few truly valuables at home.
The second half of first part strengthens Briony's misunderstanding.
Robbie decides to write an apology letter to Cecilia for their strange conversation near the fountain, earlier that day. In the midst of choosing the right words and forming the right sentences, he types his inner most fantasies that he dreamt of sharing with Cecilia and leaves it on the desk before finally writing the actual apology letter.
Leon has invited everyone, including Paul Marshall and Robbie, to dinner before which Robbie wanted to get over with his apology. Feeling awkward to handover the letter to Cecelia himself, he asks Briony to do so.
Now this segment of the second half of  part 1 mourns the loss of family and relationships.
A mother loses his son to a false statement, A woman loses his love, A brother loses both his sisters, two sisters lose their brother and each other, parents lose their children, and a man loses everything – in just a few hours.
The letter that Robbie asked Briony to give to Cecilia, was the wrong one. It wasn't the one with an apology on it but the one with his fantasies with the woman he fell in love. After what Briony saw, or thought she saw, near the fountain and after reading the letter, something came on to her that she herself couldn't reason with (perhaps till the end). She went  looking for more reasons to make Robbie the bad guy of the story she started writing, perhaps unknowingly, in her mind. Another of those reasons happened before dinner, when she found them together in a dark corner of the library. It pretty much broke her heart and almost convinced herself of Robbie being the bad one.
That night, the twins – Jack and Pierrot – went missing and everyone began a frantic search outside in the massive garden. While everyone were calling out to them, Briony found Lola being raped and all the reasons she was noting down in her mind – reasons of hating on Robbie – she found her final one. Without thinking, without checking with facts, she blamed it all on him thus leading to an unamendable crack in all their relationships.
The third part starts with a hospital scene and many many injured soldiers and nurses running around doing their jobs. One of them – Briony Tallis – all grown up. According to the letters she sent to Cecilia, in hope for forgiveness, Cecilia thought penance as the only plausible reason for Briony's new job.
It ends with Briony attending Lola and Paul Marshall's wedding followed by visiting Cecilia, despite the numerous unanswered letters, where she also found Robbie. This part includes Briony's subtle confession about the real rapist – whom she actually saw – Paul Marshall.
,
In the last few pages, you'll not only meet Briony on her seventy-seventh birthday but you'll also meet truth. A brutal truth which in the previous pages, the author decided to hide from us and give us a sugar-coated, happy ending. The truth of Robbie Turner and Cecilia Tallis's death. The truth that the two lovers never reunited in reality, however, they did only in the story narrated by Briony. By now, you realise that this story was a book with a book, written by Briony.
Maybe this was her way of giving what the couple actually deserved but couldn't receive because of their fate, which was partially altered by the the thirteen year old's foolishness. Or maybe it was to relieve her of some of the guilt that she'd been carrying around till this day.
This is the reason why I said earlier about Ian McEwan being cruel and yet considerate. Although he was unfair to us to give us a happy ending that lasted only a few pages, and to make us meet the unbearable truth. But he was considerate of Briony and her guilt, he wanted her to be able to give something to the couple, as an apology, something she couldn't while they were alive. He let her see them happily together which might have helped her take her last breath in peace.  Not only this, I feel he's considerate of Robbie and Cecilia too. He did give them a chance to be together, which was their only reason to survive the hardships, even if it was just for a moment, even if it was in someone else's book.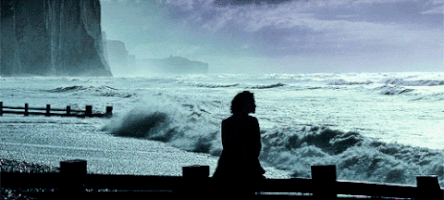 I would love to know what you think of this book, if you've read it/ the movie, if you've watched it.
If you haven't, let me know if you're interested in it now 🙂
-> Follow me on Goodreads and Instagram  🙂